MDTI-TA-2022-010
Date:
31 January 2022
Starting from 10 February 2022, FULLY-VACCINATED NATIONALS OF "NON-VISA REQUIRED COUNTRIES" shall be allowed to enter the Philippines. Kindly refer to below travel requirements upon arrival:
Passports are valid for 6 months from time of arrival, and they hold return tickets to their country of origin or to their next destination
They must have any of the following proofs of vaccination against COVID-19 that are recognized under existing IATF regulations:
– World Health Organization International Certificate of Vaccination;
– VaxCertPH certification
– National/State digital certificate of the foreign government which has accepted VaxCertPH under a reciprocal arrangement, unless otherwise accepted by the IATF
Shall be required to present a negative Reverse Transcription – Polymerase Chain Reaction (RT-PCR) test taken within forty-eight hours (48hrs) prior to departure from the country of origin. Upon arrival, they shall no longer be required to observe mandatory facility-based quarantine but shall self-monitor for any sign or symptom for (7) days with the first day being the date of arrival.
Children below eighteen (18) years of age are exempted from the requirement of full vaccination and providing proof of vaccination status prior to boarding.
Children below twelve (12) years of age who cannot be vaccinated shall follow the quarantine protocols of the parent/s or the accompanying adult/guardian travelling with them.
List of Visa Free Countries under Executive Order No. 408, s. 1960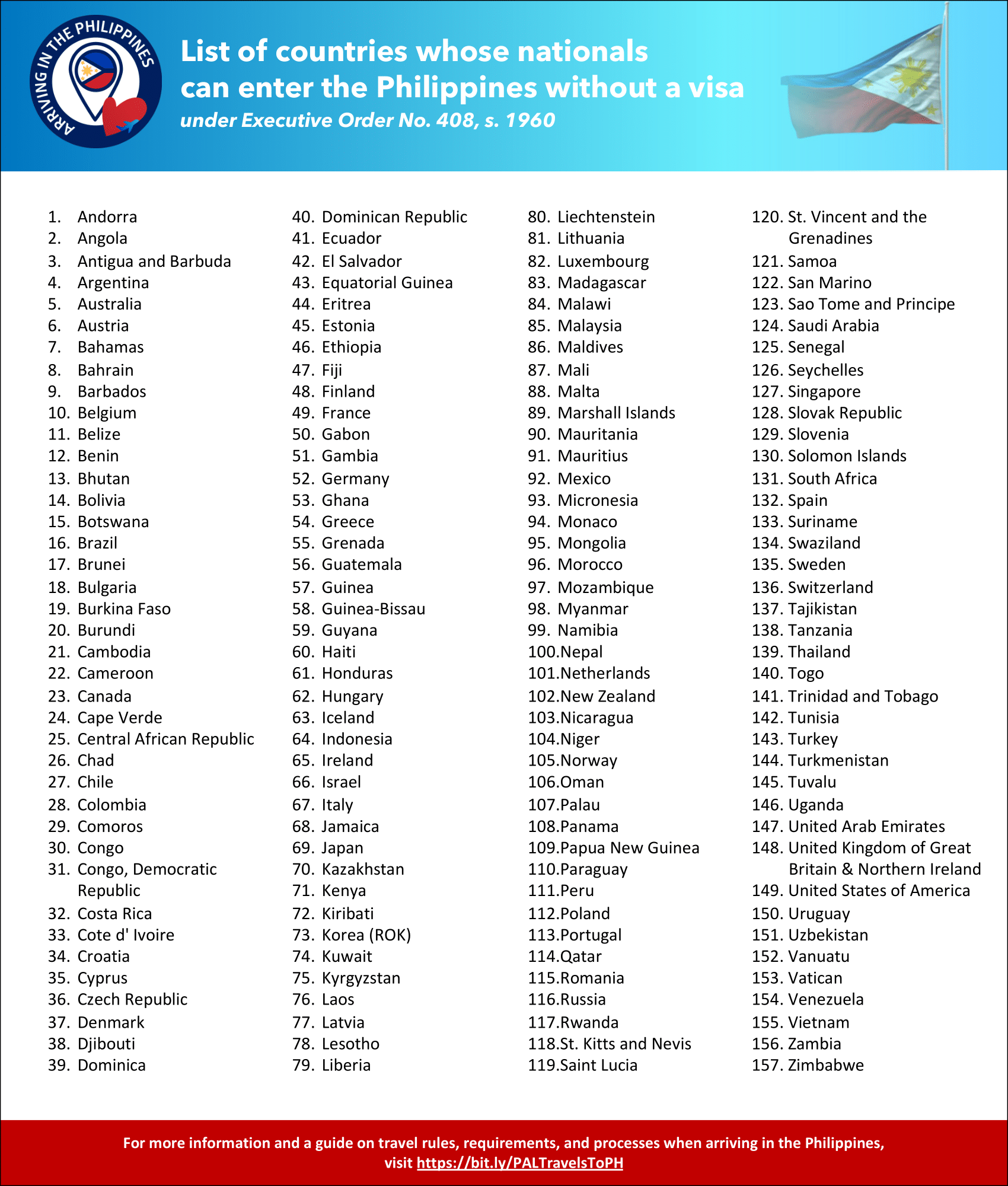 Sources:
https://www.officialgazette.gov.ph/downloads/2022/01jan/20220127-RESO-159-RRD.pdf
|
https://www.philippineairlines.com/en/~/media/files/coronavirus/travelrulesandrestrictions/arrivingintheph/eo408.pdf?la=en
Marsman Drysdale Travel Inc.
Our standard operating hours starts from 8:30AM until 5:00PM daily. For emergency support, after office hours and weekends, you may reach us through our hotline, +63918 979 0937 (Smart), available from 5:00PM to 2:00AM (next day).