MDTI-TA-2021-058
Date:
3 May 2021
According to Cathay Pacific's update, the Hong Kong Government announced last Thursday (April 29) the further tightening of the criteria of place specific flight suspension mechanism. The Government will extend the measure to prohibit all passenger flights from India, Pakistan, Philippines and Nepal from landing in Hong Kong. For more info you can visit
https://www.info.gov.hk
.
Affected Cathay Pacific Manila to Hong Kong flights are as follow: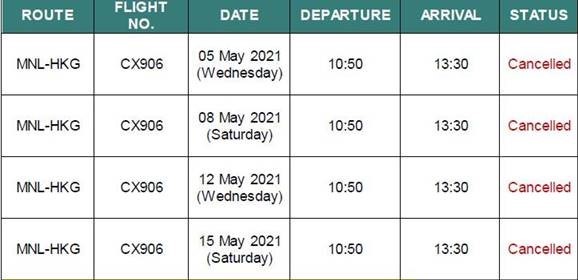 Passenger flights from Hong Kong to Manila remain operational. For more info on this, you may visit:
bit.ly/cxenterhkg
Affected passengers may email your Marsman Travel Consultant for clarification and assistance.
Our standard operating hours starts from 8:30AM until 5:00PM daily. For emergency support, after office hours and weekends, you may reach us through our hotline, +63918 979 0937 (Smart), available from 5:00PM to 2:00AM (next day).
Marsman Drysdale Travel Inc.