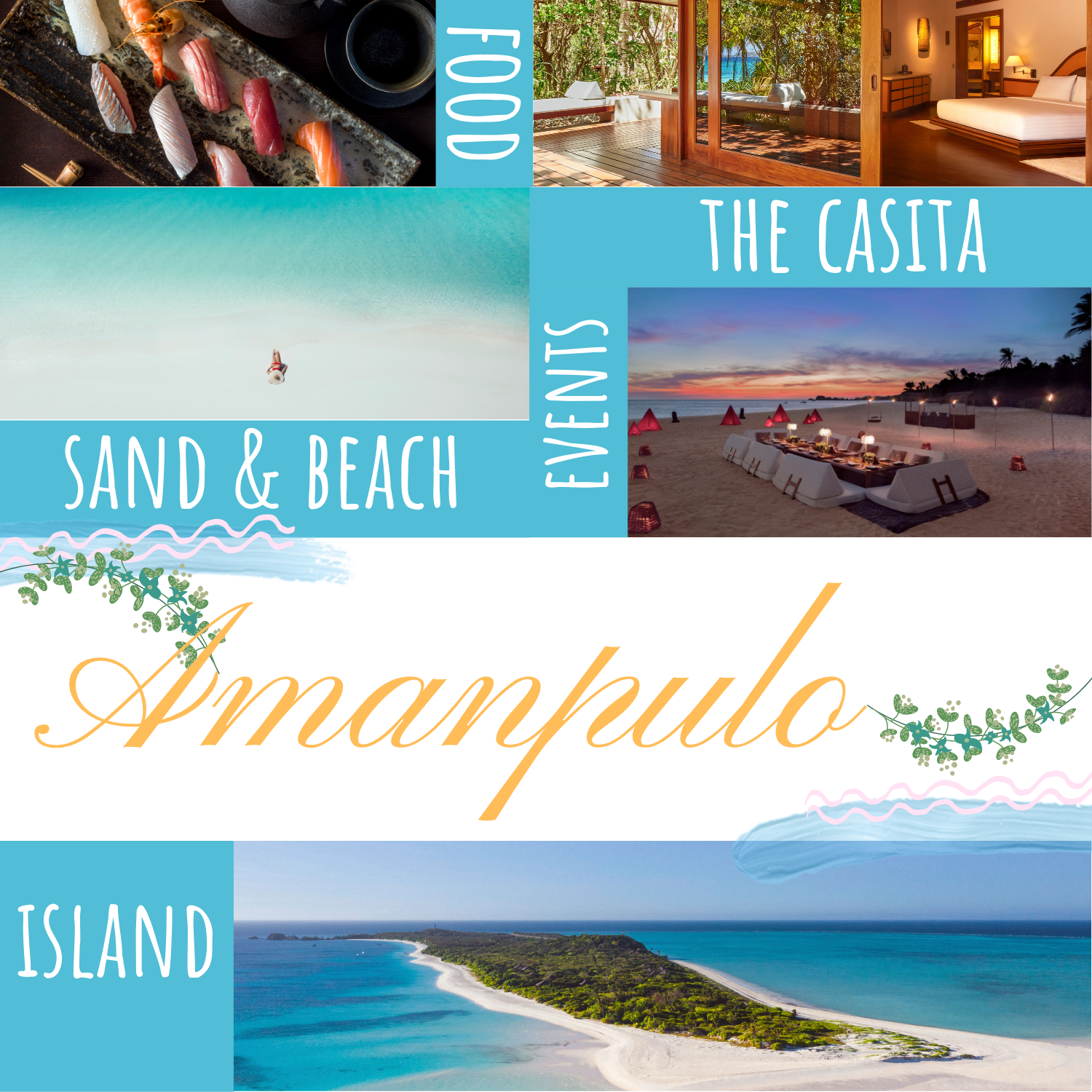 Inclusions:
Roundtrip airfare for two (2) persons
Two (2) nights hotel accommodations in a casita
Daily breakfast for two (2) persons at the clubhouse or beach house
Option of (for 2 persons): (a) one time 50-minute holistic massage or (b) one time ala carte lunch with standard drinks
Safety Procedures:
AMANPULO LOUNGE, IN-FLIGHT, GUEST ARRIVAL
Guests will be advised that indemnity form, registration card and copies of their ID will need to be completed and emailed back to Reservations prior to proceeding to the Amanpulo Lounge on the day of departure
Guests will be provided a face mask they must wear in the Amanpulo Lounge and for flying.
Health history and check will be conducted and a rapid antibody testing will be administered by our medical doctor prior to being welcomed into our Amanpulo Lounge and before flying, or upon arrival on the island for those traveling via private.
Luggage will be throughly disinfected before security screening.
Disinfecting of cabin and cockpit of the aircraft (4 hours before each flight from Manila and immediately after passengers alighted from the plane in Pamalican).
Air Purifying System will be available inside the cabin and the entire duration of the flight, with social distancing implemented on the seating arrangement.
Passengers will be given amenity kits consisting of hand sanitiser wipes, gloves and masks; pillows and blankets will be offered prior to departure and they will be packaged for individual use.
Upon arrival in Amanpulo, contactless check-in will be implemented as guests would have been advised that indemnity form, registration card and copies of their ID will need to be completed and emailed back to Reservations prior to proceeding to the Amanpulo Lounge on the day of departure.
HOUSEKEEPING
Villas and Casitas are not allocated back to back – allowing up to 24 hours between arrivals. Sanitiser gel or liquid is available in all public areas and re-filled throughout the day.
The thorough cleaning of public areas with a focus on disinfecting door handles, lighting switches and all other high use areas.
All Villas and Casitas are sanitized daily with focus on specific touch points within the full room perimeter. To avoid cross contamination, cleaning equipment (sponges, cloths and similar) are changed with every room.
Rooms are refreshed with fresh air by opening windows and doors during servicing
All of the paper collateral has been removed from the rooms. A digital copy of the compendium is available via QR code for mobile phone viewing.
Welcome amenities are delivered to rooms once guests have checked in, not before.
On arrival, guests are advised that they can opt to have room linen changed, daily, once every two days or only on request. The same applies to the turn down service, with guests opting to have turn down service, or not. We fully understand that some guests may want less interaction and activity within their room.
FOOD, BEVERAGE AND DINING
We offer options for different, more private, dining experiences, with menus focusing on wellness options and local produce. Immune booster beverages have been incorporated into non-alcoholic beverage lists.
The thorough cleaning and sanitising of all tableware, menus, place mats, salt and pepper shakers take place after each use. If guests prefer, a one-use (recycled) paper menu is available.
Staff are trained to have minimal contact and communication during service and wear masks when serving guests.
Tables are limited to groups of six, preferably members of the same household.
Tables are placed 6 feet apart.
Utensils are placed on table once the guest is seated.
In-room dining is served with all food and drinks covered and staff wear proper PPE, i.e. mask and gloves, upon delivery.
SPA AND WELLNESS
Additional hygiene equipment (sanitiser wipes) are placed next to fitness equipment, with the addition of staff cleaning it after each use.
The gym is strictly limited to no more than eight guests.
Employees wear face mask/gloves and guests are required to wear face masks.
Each facility of the Water Pavilion is limited to one guest/couple at a time with a 30-minute limit if other guests are waiting to use it.
Each treatment room is stocked with (PPE) for both guests and employee use. Each room has enough sanitiser and wipes/cleaning supplies to ensure the room is cleaned thoroughly between each use.
There is a minimum of 30-minute turnover time between sessions to allow thorough cleaning of each treatment room.
The spa lobby is equipped with a sanitising amenities to include gloves, masks and sanitiser.
Facials are not offered as part of our spa menu unless requested.
ACTIVITY
All private activities are limited to 5 individuals, including driver, boat captain, and/or guide, where applicable.