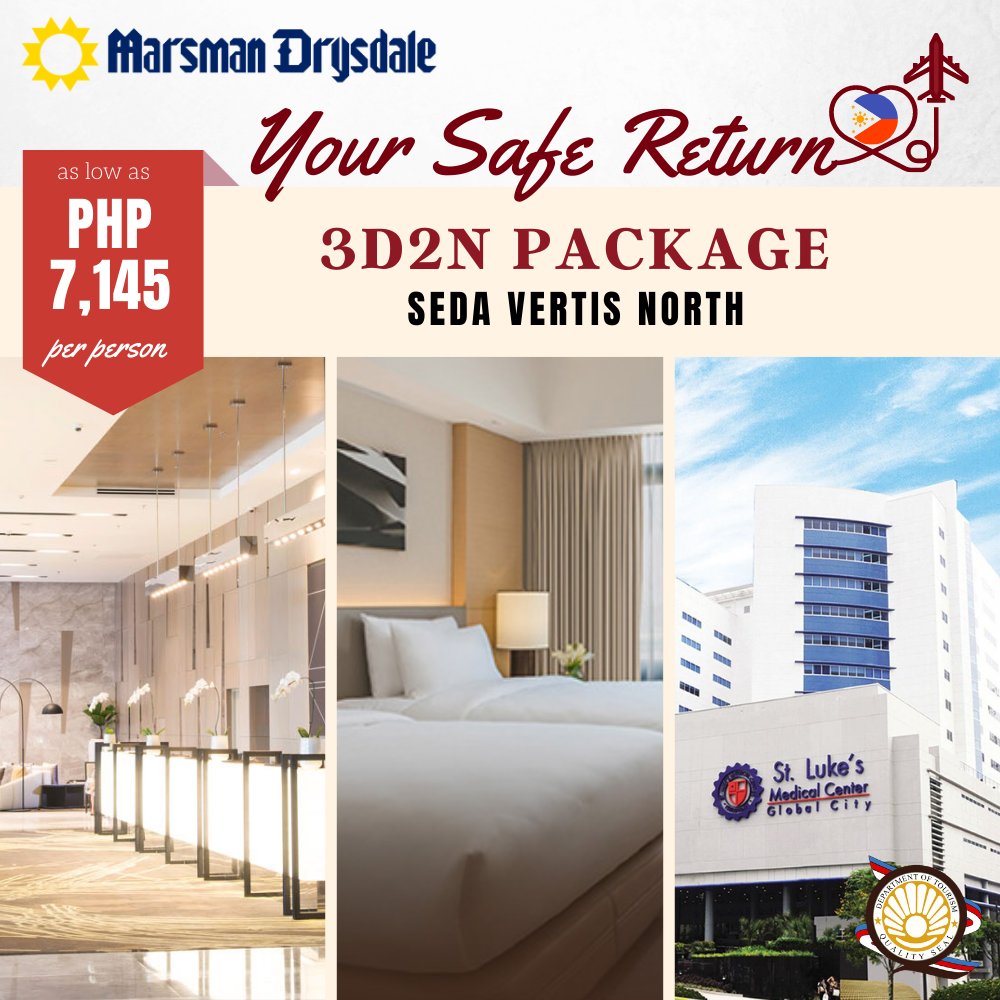 Inclusions:
Two (2) nights hotel accommodation
Daily breakfast
One way transfer (airport-hotel)
Add ons:
Extra night: Php 3,050.00
PCR testing package (inclusive of PCR testing at St. Lukes BGC and roundtrip transfers): Php 6,630.00 per person (minimum of 2 persons)
Transfer out ( SEDA Vertis North to choice of destination, max of 3 hours use): starts at Php 1,180
SEDA Hotels Safety Procedures:
Seda Hotels is strictly enforcing general and preemptive prevention measures to help protect the health and safety of its guests and colleagues. These include, but are not limited to the following:
Entrance and Lobby
– Identity verification and exclusive entry to the hotel of registered guests only
– Shoe disinfection
– Daily mandatory temperature checks
– Hand sanitizer at the main entrance
– Comprehensive environmental sanitation and hourly disinfection of high-risk surfaces and touchpoints using hospital-grade products
Front Desk
– Travel history checklist required to be filled up by all guests prior to check-in
– Presentation of RT-Hand sanitizer
– Social distancing as guests wait their turn for assistance
Elevators
– Passengers limited to four persons
– Hand sanitizer
Guestroom
– Room occupants are limited to two
– Mini-bar items are not available
– Orders for In-Room Dining are packed individually in the restaurant and picked up by guests for consumption in their respective rooms
– Cleaning of guestroom follows a pre-set schedule (not daily)
– Staff servicing the room (i.e. for cleaning, equipment/facilities check upon guest's request), may only do so in the absence of the occupant
– Use of protective essentials by any staff with tasks on the floor
Hotel Staff
– Daily mandatory temperature checks prior to entry
– Use of face mask/protective shield and gloves by front-liners
– Social distancing in their workstations
– Frequent training about Covid-19 and updates with health professionals as facilitator
– Signages in back-of-the-house areas and constant reminders about preventive measures
Accommodation Establishments New Normal Protocols:
Guest Handling Policy
– Copy of Health Declaration Form
– Wearing of face mask
– Utilize sanitizing mats
– Adhere to temperature screening
– Comply to foot markers
– Observe physical distancing, hand hygiene and respiratory etiquette
– Provide reminder cards on the prevailing disease and policies enforced by the establishment
– No showing of guests around the room after check-in
Reception and Concierge
– Emergency contact numbers must be readily available
– Hotels must provide up-to-date information on travel advisories
– Medical and sanitation kits must always be available at reception desk
Rooms and Housekeeping
– Only single up to double occupancy is allowed
– Couples or family members who share the same household are allowed to share a room
– Hotels should sanitation kit per room
– Provide separate trash bins for used PPE
– Hotels to disinfect rooms every after guests check out
– Rooms are set-up in a way to allow guest in-room dining
– Housekeeping staff are equipped with proper disinfection training and appropriate PPE
– Non-washable items must be cleaned with approved disinfecting solution
– If the room was used by a suspected infected person, all washable items must be placed in a separate disposable bag and washed properly
– All items for disposal must be disposed in sealed bags immediately
Transfer of Guests
– A waterproof transparent barrier between driver and the passenger is installed in every vehicle.
– Drivers are required to use proper PPE
– Vehicles must be sanitized and cleaned after every use
– Availability of basic first-aid and sanitation kit
– Vehicle must have a separate trash bag/bin for used masks, gloves, wet tissues, PPE and other sanitation items
– Standard passenger capacity for all vehicle is reduced to 50% with one-seat apart policy.
General Common Areas
– Cleaning and disinfection measures are in place in common areas
– Elevator capacity are limited in half
– All general facilities and furnishings are cleaned, disinfected and wiped at least once a day
– Trash bins are accessible in all areas
– Reminders on proper handwashing, sanitizing and usage of face mask are posted in conspicuous areas
– Toilets and restrooms are cleaned and sanitized regularly every 2hrs
Food and Beverage
– Guests must use sanitizer/alcohol upon entry and exit
– All f&b are served by restaurant crew
– Grab-and-go station must be made available
– Reduce seating capacity per table to 50%
– Limited capacity in function venues
– Function venues should be disinfected during break time and every after meeting/event