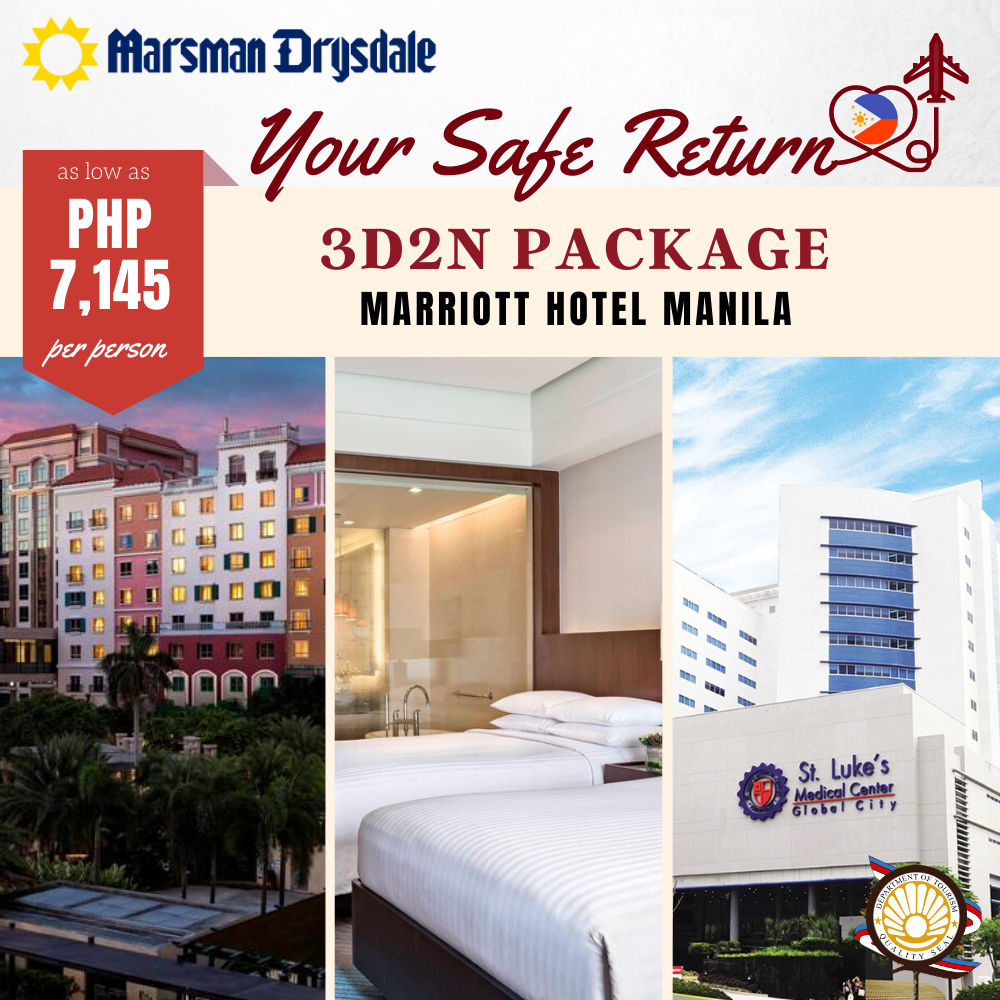 Inclusions:
Two (2) nights hotel accommodation
Daily breakfast
One way transfer (airport-hotel)
Add ons:
Extra night: Php 3,890.00
PCR testing package (inclusive of PCR testing at St. Lukes BGC and roundtrip transfers): Php 6,630.00 per person (minimum of 2 persons)
Transfer out (Marriott Hotel Manila to choice of destination, max of 3 hours use): starts at Php 1,180
Marriott Hotel Manila Safety Procedures:
Pre-Requisites
– Training of all Associates for elevated sanitization and cleaning processes throughout the hotel, Social Distancing, Personal Hygiene, following widely available material on MGS.
– Screening of body temperature for guests, associates and vendors in place at all times. The maximum temperature for Philippines and per MI SOP is 37.3 degrees Celsius. LP leaders to ensure that all thermometers are being calibrated on a weekly bases and all control point LP associates well trained in regards to body temperature screening.
– All hotel associates on duty must wear face mask while on duty – FOH and BOH
– 'Traditional Contactless Greeting' is the established greeting for all guests at all touchpoints to maintain social distancing
– Revised Heart of House guidelines adhering to social distancing norms. [lockers, cafeteria]
– On-site expert "Cleanliness Champion (or team)" who will be the expert and responsible for hotel's 'Commitment to Clean' cleanliness & hygiene program
Rooms
– Deep cleaning and sanitization of guest rooms as per MI Standard and Ecolab guided sequence [Hi-5 program must be 100% applied]
– All associates need to be in appropriate PPE (face masks, gloves)
– Time and motion study to be done to determine the time taken to clean and disinfect the guest room as per the new guidelines
– Allocation of rooms with adjacent rooms vacant, if occupancy permits
– Mini Bar: Optional for Select brands. Premium & Luxury hotels should maintain the minibar offerings. (include disinfection process to all items set in mini bar after each guest stays) (more details regarding this in stage 2)
– Set up additional disposable paper cups for guests to use
– Amenity sanitation kit per guest upon check-in, including 1 hand sanitizer bottle & 1 disposable mask (individually wrapped)
Gym and Fitness Center
– Implement 50% capacity limits, installing social distancing signage, and ensuring there is a minimum of 1 associate to manage the cleanliness and crowds during peak hours.
– Recommend to place "social distance signage" on high demand equipment such as treadmills and cross-trainers.
– Place sanitizing hand gel and wipes at the towel stations and continue to encourage each guest to wipe down after use.
Food and Beverage
– Social Distancing signage at the outlet entrance (no usage of MI logo on any signage).
– Hand sanitizer placed at various visible points throughout the outlet.
– Greeting by host/ outlet associate using traditional contactless greeting .
– Reduced seating capacity – to meet SD standards, maintain safe between tables according to local regulations and minimum at MI standards [70-50% capacity].
– Increase meal operating hours to accommodate guests.
– Set up pre-allocated dining times for lunch and dinner with 1.5 hours slots (1h for best).
– Consider 2 seatings for high demand meal periods / days and holidays.
– Reduced offering of outlets, gradual re-opening of F&B outlets, as per demand.
– Limited contact QR code for menu, in IRD, restaurants and bars. Guests to scan the QR code to open the menu / drink list on their own device (digital menus are in process. Highly recommended to use single-use menu for the moment. Alternatively, menu MUST be sanitized after use).
– All tables and chairs to be sprayed with Ecolab disinfectant after each use and wiped dry for a fresh new set up before next guest is seated. To be handled by service team during operation hours.
– During low occupancy breakfast offerings are a la carte. (until 100-120 pax)
– In Room Dining menu to have selections that can be served in a bowl / bento box. No service standards changed for IRD. In case if guests requests disposal wear service.
Accommodation Establishments New Normal Protocols:
Guest Handling Policy
– Copy of Health Declaration Form
– Wearing of face mask
– Utilize sanitizing mats
– Adhere to temperature screening
– Comply to foot markers
– Observe physical distancing, hand hygiene and respiratory etiquette
– Provide reminder cards on the prevailing disease and policies enforced by the establishment
– No showing of guests around the room after check-in
Reception and Concierge
– Emergency contact numbers must be readily available
– Hotels must provide up-to-date information on travel advisories
– Medical and sanitation kits must always be available at reception desk
Rooms and Housekeeping
– Only single up to double occupancy is allowed
– Couples or family members who share the same household are allowed to share a room
– Hotels should sanitation kit per room
– Provide separate trash bins for used PPE
– Hotels to disinfect rooms every after guests check out
– Rooms are set-up in a way to allow guest in-room dining
– Housekeeping staff are equipped with proper disinfection training and appropriate PPE
– Non-washable items must be cleaned with approved disinfecting solution
– If the room was used by a suspected infected person, all washable items must be placed in a separate disposable bag and washed properly
– All items for disposal must be disposed in sealed bags immediately
Transfer of Guests
– A waterproof transparent barrier between driver and the passenger is installed in every vehicle.
– Drivers are required to use proper PPE
– Vehicles must be sanitized and cleaned after every use
– Availability of basic first-aid and sanitation kit
– Vehicle must have a separate trash bag/bin for used masks, gloves, wet tissues, PPE and other sanitation items
– Standard passenger capacity for all vehicle is reduced to 50% with one-seat apart policy.
General Common Areas
– Cleaning and disinfection measures are in place in common areas
– Elevator capacity are limited in half
– All general facilities and furnishings are cleaned, disinfected and wiped at least once a day
– Trash bins are accessible in all areas
– Reminders on proper handwashing, sanitizing and usage of face mask are posted in conspicuous areas
– Toilets and restrooms are cleaned and sanitized regularly every 2hrs
Food and Beverage
– Guests must use sanitizer/alcohol upon entry and exit
– All f&b are served by restaurant crew
– Grab-and-go station must be made available
– Reduce seating capacity per table to 50%
– Limited capacity in function venues
– Function venues should be disinfected during break time and every after meeting/event