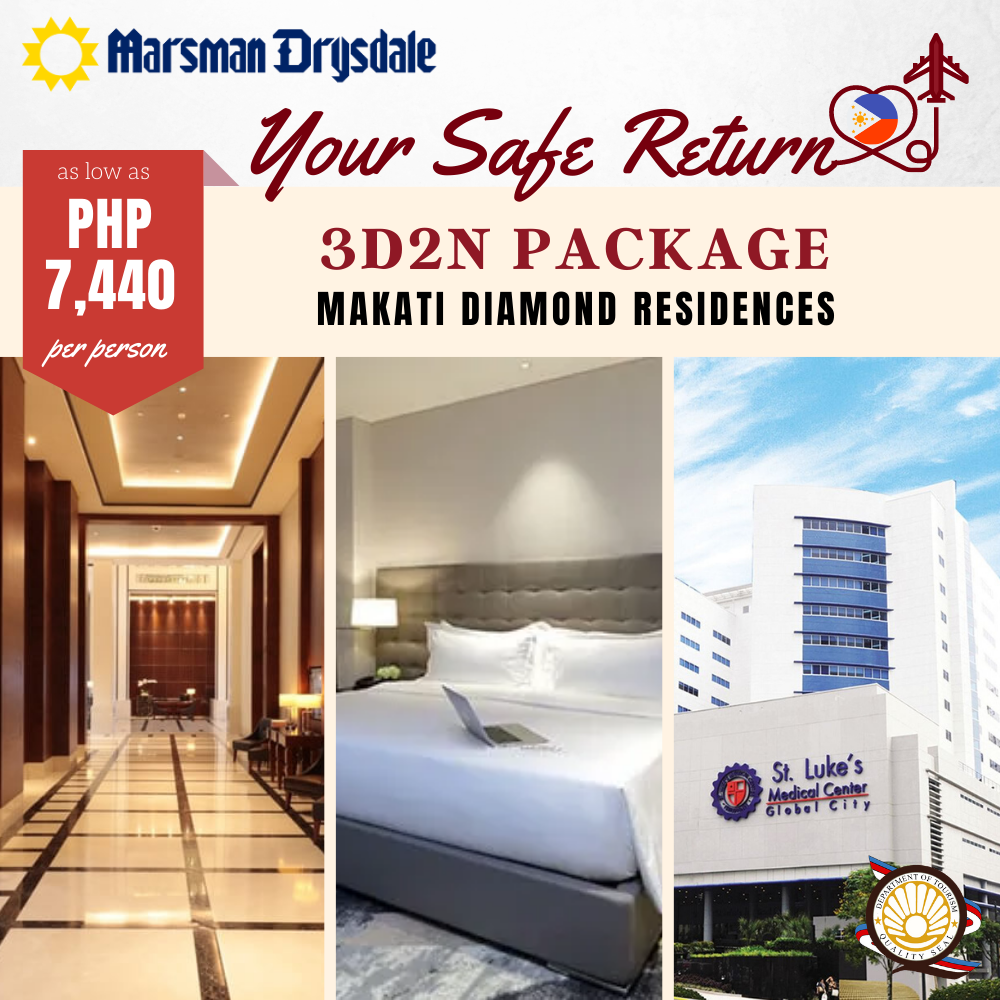 Inclusions:
Two (2) nights hotel accommodation
Daily breakfast
One way transfer (airport-hotel)
Add ons:
Extra night: Php 3,440.00
PCR testing package (inclusive of PCR testing at St. Lukes BGC and roundtrip transfers): Php 6,630.00 per person (minimum of 2 persons)
Transfer out (Makati Diamond Residences to choice of destination, max of 3 hours use): starts at Php 1,180
Makati Diamond Residences Safety Procedures:
1. Screening of guests and employees.
– upon entering MDR, Security on duty will check the temperature of the guest/employee.
> if the guest/employee registers a temperature of 38 degrees Celsius and above, he/she will be given a mask and asked them to sanitize and proceed to the clinic using PE 4 elevator and sanitize immediately after use.
> if the guest/employee is afebrile (37.8 degrees Celsius), he/she will be given a mask and asked to sanitize before proceeding to the clinic for proper assessment and history taking.
– during check-in at the Front Office or Club Lounge, guests will be asked to fill-out our screening form. If the guest exhibits flu-like signs and symptoms (coughs, colds, body weakness, and difficulty of breathing, shortness of breath, body pain and fever), FDA/CL Officer should offer clinic assistance to the guest and notify the Duty Manager.
– during MUR or Room Service, if a Room Attendant or Room Service Attendant notices a guest exhibiting flu-like signs and symptoms of, he/she should report it to his/her supervisor and the clinic for monitoring. Room Attendant or Room Service Attendants should wash and sanitize their hands after leaving the room and put on complete PPE if they need to go back to the room.
2. At the clinic, the Physician on Duty (POD) or Nurse on Duty (NOD) will assess the guest and employee.
– refer to the Decision tool given by Department of Health
– recheck the temperature.
> if the guest is symptomatic or asymptomatic, the NOD and POD should wear full PPE (mask, gloves, goggles and gown if necessary). For strict compliance.
> if guest is symptomatic or asymptomatic but has not been to any of the places listed below, guest will be closely monitored. Medication will also be provided and guest will be allowed to check-in. Provide guest with mask to protect other guests and employees.
> if guest is asymptomatic, allow the guest or employee to go back to the front desk to proceed with the check-in.
3. If the guest or employee is categorized as PUM (Person Under Monitoring), the following should be relayed by the Clinic Supervisor, POD or NOD and must be strictly implemented:
– advise the guest to go to the nearest hospital for safe measure.
– self- quarantine for 14 days.
– limit interaction.
– mask should be worn whenever they are allowed to step out of their respective rooms.
– everyday temperature check by someone from the Clinic Team.
– advise the employee to go home and follow instruction from POD after consultation.
4. If the POD or NOD categorizes a guest or employee as PUI (Person Under Investigation), the Clinic Team must immediately alert ExCom and concerned managers of the situation (Security Department, Duty Manager, Guest Services Manager and Sales Manager, etc. as needed).
5. The Clinic Supervisor/ NOD will call the DOH to extract the guest for further assessment and laboratory procedures.
6. Once DOH confirms that they will extract the guest, the DM will inform the guest about the situation and have them prepare prior to extraction
7. If the guest declines, NOD will inform DOH of possible resistance and DAC will call the PNP, upon approval of RDM/DM, if necessary.
8. While waiting for DOH representative, Security team should closely monitor the movements of the guest/s.
9. Duty Manager will notify Engineering to manually operate PE4.
10. Upon arrival at the Hotel, the DOH representative and his team shall be directed to Basement 1 by Security.
11. The DM, NOD/POD and security personnel will meet the DOH team and wait for the instruction before NOD proceeds to the floor/ holding area to accompany the guest.
12. The NOD will manually operate PE4 with the assistance of Engineering to transport guest from his/ her floor to B1.
13. The DOH will explain to the guest the procedures before leaving the hotel.
14. For the disinfection of the room, housekeeping should take note of and ensure to carry out DOH special instructions.
15. If the DOH assessment indicates that the guest is infected, MDR must act promptly regarding evacuation, sanitizing key areas, and implementing quarantine protocol for identified people at risk with clearance and approval from GM and Executive Committee.
16. If the guest is cleared to go back to the hotel, ensure that the advice of the DOH team will be followed strictly.
Accommodation Establishments New Normal Protocols:
Guest Handling Policy
– Copy of Health Declaration Form
– Wearing of face mask
– Utilize sanitizing mats
– Adhere to temperature screening
– Comply to foot markers
– Observe physical distancing, hand hygiene and respiratory etiquette
– Provide reminder cards on the prevailing disease and policies enforced by the establishment
– No showing of guests around the room after check-in
Reception and Concierge
– Emergency contact numbers must be readily available
– Hotels must provide up-to-date information on travel advisories
– Medical and sanitation kits must always be available at reception desk
Rooms and Housekeeping
– Only single up to double occupancy is allowed
– Couples or family members who share the same household are allowed to share a room
– Hotels should sanitation kit per room
– Provide separate trash bins for used PPE
– Hotels to disinfect rooms every after guests check out
– Rooms are set-up in a way to allow guest in-room dining
– Housekeeping staff are equipped with proper disinfection training and appropriate PPE
– Non-washable items must be cleaned with approved disinfecting solution
– If the room was used by a suspected infected person, all washable items must be placed in a separate disposable bag and washed properly
– All items for disposal must be disposed in sealed bags immediately
Transfer of Guests
– A waterproof transparent barrier between driver and the passenger is installed in every vehicle.
– Drivers are required to use proper PPE
– Vehicles must be sanitized and cleaned after every use
– Availability of basic first-aid and sanitation kit
– Vehicle must have a separate trash bag/bin for used masks, gloves, wet tissues, PPE and other sanitation items
– Standard passenger capacity for all vehicle is reduced to 50% with one-seat apart policy.
General Common Areas
– Cleaning and disinfection measures are in place in common areas
– Elevator capacity are limited in half
– All general facilities and furnishings are cleaned, disinfected and wiped at least once a day
– Trash bins are accessible in all areas
– Reminders on proper handwashing, sanitizing and usage of face mask are posted in conspicuous areas
– Toilets and restrooms are cleaned and sanitized regularly every 2hrs
Food and Beverage
– Guests must use sanitizer/alcohol upon entry and exit
– All f&b are served by restaurant crew
– Grab-and-go station must be made available
– Reduce seating capacity per table to 50%
– Limited capacity in function venues
– Function venues should be disinfected during break time and every after meeting/event