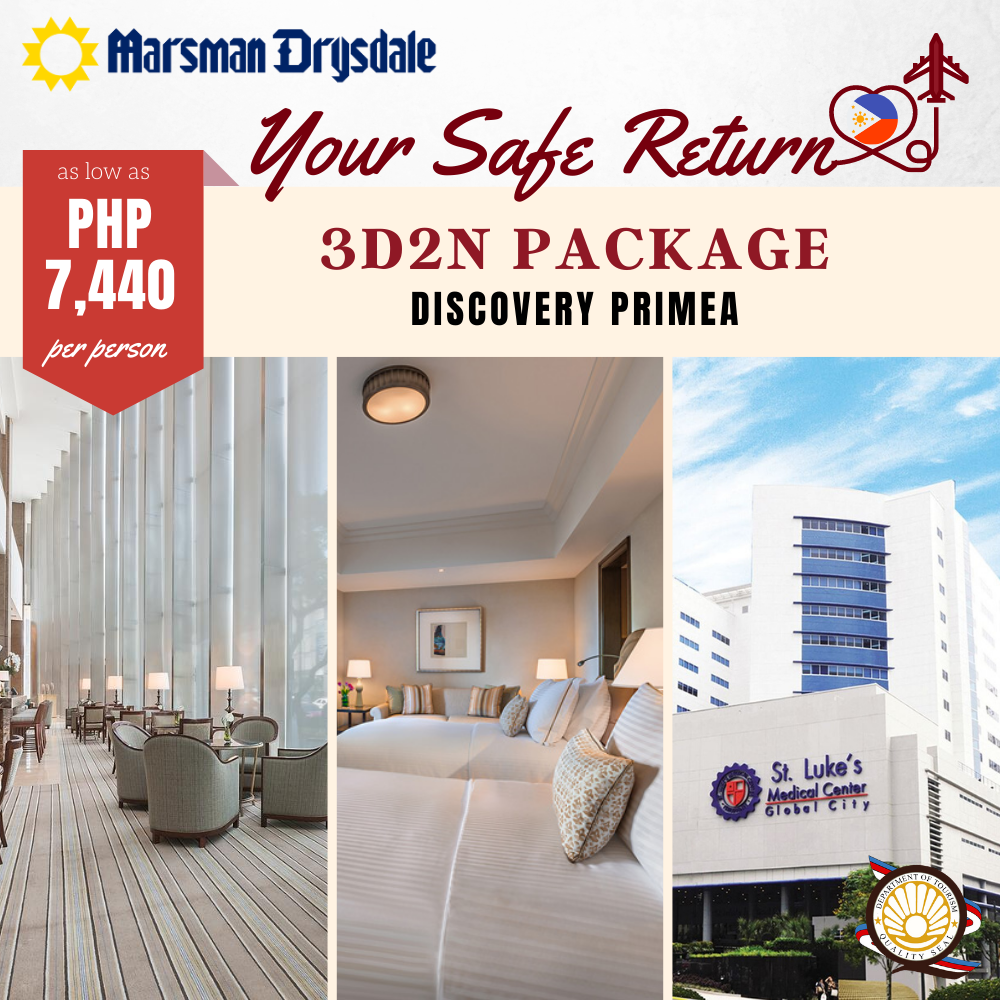 Inclusions:
Two (2) nights hotel accommodation
Full board meals (packed breakfast, lunch and dinner)
One way transfer (airport-hotel)
Add ons:
Extra night: Php 3,240.00
PCR testing package (inclusive of PCR testing at St. Lukes BGC and roundtrip transfers): Php 6,630.00 per person (minimum of 2 persons)
Transfer out (Discovery Primea to choice of destination, max of 3 hours use): starts at Php 1,180
Discovery Primea Safety Procedures:
Safety and Health of Employees
All employees and service partners are required to observe health protection measures, such as wearing face masks and face shields. Health monitoring procedures are implemented to prevent the spread of the disease in the workplace with staff being required to accomplish a health questionnaire checklist and a COVID-19 tracking form from the company nurse. A designated team is in charge of ensuring employees will have access to the necessary equipment.
Guests will likewise be asked to accomplish the mandatory health check questionnaire by DOH upon check-in. Security will continue to use infrared temperature scanners and disinfectant spray at each entrance.
Clean Environment
Discovery Primea has identified the frequently touched surfaces and routinely disinfect these areas and also enhanced the facility and room cleaning and disinfecting guidelines. Alcohol-based hand sanitizer stations were installed at the entrances of our restaurants, restrooms, locker rooms, offices and other shared spaces
Food Safety
Your meals are prepared in the kitchens which are regularly sanitized to avoid food contamination. Kitchen staff are required to wear face masks or shields and disposable gloves at all times to ensure that you can enjoy your meals to the fullest.
Social Distance
Guests and hotel employees are advised to avoid the gathering or large groups of people in closed spaces. Restaurants are only open for delivery until further notice and interactions are guided by the "three-feet-rule"
Sanitation Process
– Practice frequent hand washing and have sanitizers on all workstations. All team members must also have a pocket size sanitizer.
– All must wear face masks (employees and guests). Gloves maybe used and replaced once every 4 hours for door and luggage handlers
– Regular sanitation or deep cleaning of all workstations, hotel vehicles and operating equipment.
– In-house food to be recommended
– Consider the non-entry of Bell service team in the guest rooms when delivering item unless otherwise insisted by guest
– Sanitize and clean luggage or items going inside
– Front desk has protective shield or splash guard
– Sanitized key/s will be handed over using a tray with hand sanitizer/alcohol
– Thorough cleaning of rooms conducted based on housekeeping standard. After cleaning, the area must be sanitized/disinfected using diluted Liquid Lysol. For Heavy disinfection -Use 125ml/1L of water or 1:10 Bleach and Water solution or Germaster and Hygiene Pro 1-5%.
– All handles, doorknobs and contact points in rooms shall be cleaned with Lysol (main door, arm rest, tables, shower handle, soap and shampoo dispensers, faucet, remote controls, switch, etc.)
– Use tissue with alcohol in whipping telephone doorknobs, remote control, pens, and dispose right after.
– All glassware and cutleries must be cleaned using hot water for at least 5 minutes before set-up. Disposable, biodegradable as alternative.
– Use dry steamer and Lysol to disinfect the room
– Rooms to be occupied on back to back status, two days of thorough sanitation process
Accommodation Establishments New Normal Protocols:
Guest Handling Policy
– Copy of Health Declaration Form
– Wearing of face mask
– Utilize sanitizing mats
– Adhere to temperature screening
– Comply to foot markers
– Observe physical distancing, hand hygiene and respiratory etiquette
– Provide reminder cards on the prevailing disease and policies enforced by the establishment
– No showing of guests around the room after check-in
Reception and Concierge
– Emergency contact numbers must be readily available
– Hotels must provide up-to-date information on travel advisories
– Medical and sanitation kits must always be available at reception desk
Rooms and Housekeeping
– Only single up to double occupancy is allowed
– Couples or family members who share the same household are allowed to share a room
– Hotels should sanitation kit per room
– Provide separate trash bins for used PPE
– Hotels to disinfect rooms every after guests check out
– Rooms are set-up in a way to allow guest in-room dining
– Housekeeping staff are equipped with proper disinfection training and appropriate PPE
– Non-washable items must be cleaned with approved disinfecting solution
– If the room was used by a suspected infected person, all washable items must be placed in a separate disposable bag and washed properly
– All items for disposal must be disposed in sealed bags immediately
Transfer of Guests
– A waterproof transparent barrier between driver and the passenger is installed in every vehicle.
– Drivers are required to use proper PPE
– Vehicles must be sanitized and cleaned after every use
– Availability of basic first-aid and sanitation kit
– Vehicle must have a separate trash bag/bin for used masks, gloves, wet tissues, PPE and other sanitation items
– Standard passenger capacity for all vehicle is reduced to 50% with one-seat apart policy.
General Common Areas
– Cleaning and disinfection measures are in place in common areas
– Elevator capacity are limited in half
– All general facilities and furnishings are cleaned, disinfected and wiped at least once a day
– Trash bins are accessible in all areas
– Reminders on proper handwashing, sanitizing and usage of face mask are posted in conspicuous areas
– Toilets and restrooms are cleaned and sanitized regularly every 2hrs
Food and Beverage
– Guests must use sanitizer/alcohol upon entry and exit
– All f&b are served by restaurant crew
– Grab-and-go station must be made available
– Reduce seating capacity per table to 50%
– Limited capacity in function venues
– Function venues should be disinfected during break time and every after meeting/event